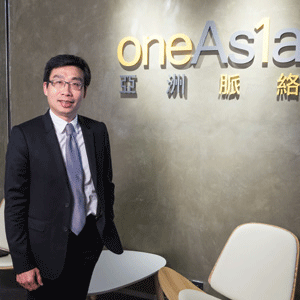 Charles Lee, Founder and CEO
Data deluge, disaster recovery, and the ambition to scale seamlessly have prompted several enterprises to jump on the cloud bandwagon. Both large corporations, as well as small and medium-sized enterprises alike, are finding solace in leading cloud service providers such as Amazon, Google, and Microsoft to end their data management woes. Some enterprises are even shunning existing data centers, rack and server rooms, and wholly subscribing to a specific cloud model. An industry veteran, Founder and CEO of OneAsia, Charles Lee opines that opting for a hybrid cloud structure that extracts the benefits of the private and public cloud is the best data management approach. His firm has garnered visibility across the Asia-Pacific region for delivering comprehensive managed cloud services and turnkey IT solutions to help client firms manage their IT resources and budget efficiently. "Our team assists enterprises in devising secure cloud connect strategies to access multiple cloud environments aligned with their organizational goals," Lee mentions.
According to Lee, one of the biggest challenges plaguing most legacy enterprises looking to migrate to a public cloud model is determining the amount and nature of data that needs to be transported. OneAsia's exclusive colocation services help in addressing the concern and minimization of migration risks.
Also, the presence of many reputed cloud service providers makes it hard for enterprises to choose an ideal vendor. Thus, OneAsia doubles as a consultant helping firms zero-in on an ideal vendor that allows them to procure solutions in an enterprise-specific manner. The organization is a preferred vendor for its finesse in end-to-end cloud management, predominantly the delivery of IaaS, PaaS, and SaaS services for private, public, and hybrid cloud environments. The prime factor that differentiates OneAsia from its industry peers is assisting clients in devising a 'cloud-first strategy' by combining multi-cloud technology and automation, aimed at accelerating innovation.

To emphasize the capabilities of his firm further, Lee shares a recent client success story involving an international firm with a strong presence across Asia. The organization relied on private server rooms for data management, although they catered to customers and suppliers worldwide. Thus, data storage in a single physical location posed to be a challenge considering the complexities involved in managing the global business and of course, data deluge. OneAsia's talented resource pool conducted a comprehensive study of the IT workloads of this client organization, identified critical information which can be hosted on its data center, and also helped the company devise an effective disaster recovery strategy. While the crash recovery mechanism has now prevented the business from being stranded, another essential benefit of collaborating with OneAsia is the ability to deploy IT workload into different geographical locations to allow this international firm to serve their customers in a cost-effective manner. The holistic cloud migration solution offered by the firm to this client included planning, design, migration, 24x7 monitoring, backup, security management, as well as patch management services.

The organization will leave no stone unturned to accomplish innovation and retain its reputation of being a trusted advisor of the client to help them build a cloud environment tailored to their needs. "Our aim for the future is to automate key IT processes so that the customers can focus on their business growth. We'll strive to protect the existing investments of our clients and help them make transitions to a cloud infrastructure intelligently," says Lee, revealing his firm's vision for the future. OneAsia is currently engrossed in comprehending how trending technologies such as Artificial Intelligence (AI), Machine Learning, and the Internet of Things (IoT) can be harnessed for the benefit of its target audience in the days to come.