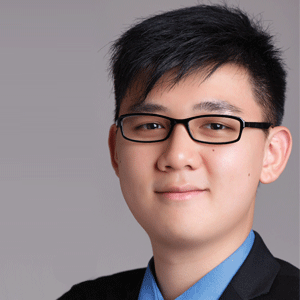 Lung Hao Liu, Lead Consultant
"Technology should integrate into your business processes, not the other way around.' This is an adage our company firmly believes in. Our aim has always been amalgamating latest IT trends with our clients' business processes and helping them achieve their scalability ambition," mentions Lung Hao Liu, Lead Consultant, Feezmodo Consulting. The Singapore-based firm has garnered visibility in the Asia-Pacific region for assisting several enterprises out of the fear of being deemed obsolete by delivering futuristic IT solutions and helping them adopt trending technologies. Over an elaborate discussion, Liu, an industry veteran himself, states why devising long-term IT strategies is important to steer ahead of competitors, the benefits of collaborating with Feezmodo Consulting and his firm's uniqueness as a cloud service providers.
Challenges Curbing an Enterprise's Growth
Enterprises today face several challenges that deter their ambition to scale and these include implementation of data security measures that curb the risk of complex attacks, retention of talent pool and adherence to compliance regulations. Most importantly, cloud adoption or embracing infrastructure that seamlessly accommodates large data volumes over the years is quintessential in this era of Big Data and Internet of Things (IoT). The failure to upgrade infrastructure and reliance on legacy operating systems such as Windows 7 or other relatively obsolete applications would lead to violation of compliance regulations. Similarly, failure to conduct regular security audit and adapt to the latest technologies would often expose a firm's processes to cyber-attacks. Thus, enterprise bosses have started to realize that adoption of long-term IT strategies that help organizations scale their infrastructure seamlessly is inevitable in the current climate of rapid technological evolution.
Technology should integrate into your business processes, not the other way around' is an adage the company firmly believes in
Creating a Difference
The Singapore-based firm is a trusted partner of many traditional organizations and has helped them kickstart their digital transformation journeys, which includes building IT strategies, transportation of critical data to cloud platforms, corporate data security, analysis of business insights, automation of business processes, and monitoring critical applications. Feezmodo Consulting has helped resolve several challenges related to cloud adoption such as long latency to process large files over internet. Feezmodo has invested heavily in hybrid cloud technology to ensure that customers can enjoy high performances on the on-premise environment as well as the agility and scalability of the cloud. Additionally, the organization assists its clients in leveraging the myriad advantages of leading cloud solution providers such as Microsoft, Amazon, and Google.
Feezmodo's Prowess
To illustrate the capabilities of Feezmodo Consulting in elevating an organization, Liu recalls the experience of working with a reputed client, a company that imparts accounting services. The firm's transactions involved heaps of confidential data. A single data breach or attack will be fatal to the organization's operation. Creating individual passwords for encryption was not really a practical idea since many employees were not IT savvy and remembering various access codes for each file was difficult. Additionally, passwords are more plausible to leak outside of the organization due to staff movement. Considering the aforementioned disadvantages, Feezmodo Consulting devised a file-level encryption solution that alleviated the need of passwords and permitted access based on user accounts and biometric or hardware key for authentication. The solution will enable employees to protect their files with a single click of a button.
Data Security and AI Adoption
Amalgamation of AI is another highlight of the next phase, since the solution will then be able to scan for critical information embedded in large documents and encrypt them to prevent threats. The company's dedicated data security team comprises of talented individuals who have obtained certifications such as Offensive Security Certified Professional (OSCP) and GIAC Advanced Smartphone Forensics (GASF). Interestingly, the organization assigned its security experts the task of hacking its own systems to assess their degree of vulnerability. The company has shunned its Singapore office space to ensure all employees can work remotely by utilizing unified communication media and hires talents from world over, approaches that are drastically different from its industry peers. Apart from being a data security and cloud implementation expert, the organization revealed its finesse as an AI solution provider at Microsoft FutureNow, technology conference held in Singapore recently.
The Path Ahead
The near future seems to be quite eventful for Feezmodo Consulting since the organization intends to introduce several unique products and services. These include a preview of its latest innovation, the Managed Hybrid Datacentre Services in the first quarter of 2019. The service is aimed at facilitating the utilization of hyper-converged infrastructure in an on-premise environment, not just reputed cloud models and its rollout will benefit SMEs immensely. Additionally, the company intends to introduce the Managed DevOps Serverless Stack as well in the days to come.