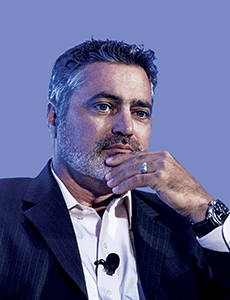 Tom Reilly, CEO
​
Every year impassioned debates about how to improve outcomes for citizens, best allocate resources, and modernize infrastructure and security rule every parliamentary session across the globe. The good news is that federal bodies that are known to store vast reserves of public information are opening up to data analytics to drive modernized government services and aid their economies. In fact, a report by McKinsey & Company estimates that by digitizing information and applying analytics to improve decision-making, governments around the world can act as catalysts for more than $3 trillion in economic value.
In such times, helping governments push limits in citizen services, a data-driven approach, and innovation is Cloudera. Founded in 2008 by some of the brightest minds at Silicon Valley's leading companies such as Google, Facebook, Oracle, and Yahoo! today Cloudera is the solution of choice for civilian bodies, homeland security and defense, and state and local governments. Built on the core belief that open source, open standards, and open markets is the way to go, Cloudera is creating a significant stir in the cloud space today with a global presence across 24 countries. Helping the company achieve year on year success is CEO Tom Reilly, a distinguished enterprise software veteran with a 30-year career. Having been associated with industry bigwigs such as HP and IBM, Reilly continues to accelerate the pace of innovation, growth, and market leadership at Cloudera.
Making the Impossible, Possible
Through a secure data platform, Cloudera Enterprise that leverages AI and machine learning, the public sector can make real-time decisions for constituent services and infrastructure planning, resource allocation, as well as national security. Cloudera's platform allows organizations to ingest both structured and unstructured information and keep any volume of data online securely and indefinitely. To automate massive data engineering and data warehousing workloads in any public cloud, Cloudera Altus, a service platform makes it easier than ever to extend on-premises analytics to the cloud for a true hybrid cloud experience. Cloudera Altus empowers data engineers to run data pipelines on exabytes of data in cloud storage and delivers self-service data warehousing capabilities, so analysts can provide critical insights back to the business.
The solution allows data scientists to manage their own analytics pipelines, including built-in scheduling, monitoring, and email alerting. Cloudera Data Science Workbench is secure and compliant by default, with support for full Hadoop authentication, authorization, encryption, and governance. Finally, data scientists can easily access Hadoop data and run Spark queries in a safe environment.
Built on the core belief that open source, open standards, and open markets is the way to go, Cloudera is creating a significant stir in the cloud space
Given the increasing number of IoT devices managed by the public sector—embedded in cars, parking meters, buildings, and transit vehicles, the government is at stake to rethink their data management strategy, presented specifically by IoT. With Cloudera Enterprise, governments can now gain insights from their high-volume, fast-moving IoT data. This includes sensor data, activity log, transaction data, and more. A number of leading organizations across the public sector have adopted Cloudera Enterprise as their data management platform for IoT, ingesting and processing as much as one million events per second.
To gain a clearer view of the economy, the Office for National Statistics (ONS) is using Cloudera Enterprise to improve the detail and timeliness of ONS Gross Domestic Product (GDP) estimates. The Cloudera platform has helped ONS to include businesses' Value Added Tax (VAT) data in GDP measurements for the first time. The expansion of available data, together with Cloudera tools, means ONS' analysts, statisticians, economists, and data scientists can now perform increasingly fine-grained analysis more quickly than ever before. Using Cloudera Enterprise not only allows ONS to make best use of newly available data sources, it also facilitates analysis, production, and publication of more detailed and relevant statistics, including timely information on local economies. Additionally, ONS data scientists are using Cloudera Data Science Workbench to transform historical analytical products into new ones using R, Python, and Scala.
Truly Data-Driven
In addition, supported by Cloudera Enterprise is Cloudera Search that makes Apache Hadoop accessible to everyone. Cloudera Search was the go to solution for Patterns and Predictions (P&P), a predictive analytics firm with a core technology that provides unstructured and linguistics driven prediction. Funding sources for (P&P) include the U.S. Government's Defense Advanced Research Project Agency (DARPA) and customers include Global 100 companies. In case of a particular project, accessing machine learning analytics through search interfaces was becoming expensive, and the client was on the lookout for a solution that would prompt maximum speed at minimum cost. With Cloudera Search and Impala, the ingestion of data on Hadoop was promisingly efficient in terms of reduced costs, better computational throughput, and reduced complexity of IT support. Moreover, after the phase one build and testing, the project's machine learning fabric was viable with predictive capabilities that were 65 percent accurate in predicting suicide risk among a veteran control group.
Cloudera Data Science Workbench is another state-of-the-art platform for collaborative data science at scale.
Talking about safety, Cloudera integrates the necessary security controls demanded by today's regulatory environments and compliance policies. The firm's cybersecurity solution, based on Apache Spot, enables anomaly detection, behavior analytics, and comprehensive access across all enterprise data using an open, scalable platform. Agencies can now not only increase enterprise visibility but also accelerate threat detection as well as discover advanced threats and abnormal behaviors across endpoints, users, and networks.

Keeping in mind that data applications in the cloud are often transient and run on isolated infrastructure Cloudera Shared Data Experience, or SDX, is a powerful framework that mitigates such issues. It simplifies the development and deployment of multi-function applications in the cloud without sacrificing centralized security, governance, and metadata management traditionally associated with on-premises deployments. Available in the cloud as well as managed services, SDX puts data to work when organizations need easy workload management and unified security.

Dedicated Support Capabilities

To always stay ahead of the curve, the company also has a strong partner ecosystem comprising Accenture and Securonix to support their industry-leading platform. Recently, big data platform heavyweight, Hortonworks joined hands with Cloudera in a $7 billion merger. This collaboration is expected to give the combined entity hundreds of millions in revenue and over 2500 customers. "By bringing together Hortonworks' investments in end-to-end data management with Cloudera's investments in data warehousing and machine learning, we will deliver the industry's first enterprise data cloud from the edge to AI," said Reilly. The company has also teamed with dedicated industry-focused support engineers to keep the public sector Hadoop environment running with confidence. Cloudera offers four levels of government support in every phase, from initial design, deployment, ongoing maintenance, to optimization. Through this service, clients are guaranteed to experience more uptime, quick issue resolution, better performance of mission-critical applications, and faster delivery of features.

To help governments hone their big data technology skills, the Cloudera University is a one-of-kind training curriculum that is truly dynamic. Apart from free on demand training on deploying Cloudera Enterprise on Microsoft Azure and other relevant content, they also provide blended learning which is the best of on-demand and instructor-led training, alongside Cloudera security training.

In the days to come, one of the next big steps for the company will be to support hybrid software delivery methods, where customers have the freedom to deploy applications to public clouds, on-premise clusters, or a combination of both. Kubernetes and Docker are seen as big answers to part of that question. Giving a peek into Cloudera's future course of action, Reilly says, "To better-position Cloudera for the next evolution of the market— machine learning, analytics, and cloud—we are focusing our innovation and go-to-market initiatives on these high growth areas and the line of business executives responsible for digital transformation."
- Sandeepa Majumdar
December 27, 2018