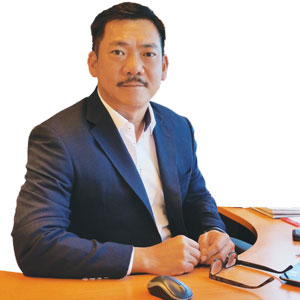 Albert Wong, CEO
"Be candid, natural, and open yourself up. Help service providers understand your business model so that both you and the service provider are on the same page in attaining maximum value at the respective ends of the business," says Albert Wong, CEO of ICONZ-Webvisions (iWV). Wong's customer-centric philosophy dwells on increasing his clients' awareness regarding the technology that drives the solutions the company delivers; this ideology serves as the backbone for iWV, a leading cloud and managed service provider in Singapore.
iWV creates a unique value proposition by understanding the pain points of its customers, right from the initial stages of pre-sales to the deployment of its product. The company's cloud solutions cater to the most trivial requirements of its customers, helping them along their journey of adopting cloud-based infrastructure. iWV believes in educating its clientele about the significance of a cloud infrastructure to maximize the value of their existing ecosystem; the company achieves this task through a pre-sales team and tailors its cloud solutions as per the client's requirement. Bolstering a stringent security barrier for all its cloud offerings, iWV prioritizes security and privacy of their clients above all other functionalities. Its multi-tier cloud security certification ensures data security in three areas—data at rest, data at use and data in motion—accounting for both data leak prevention and data loss protection.
In line with the security compliances of cloud infrastructure, iWV follows a 'three-step co-location process' to help its clients embrace cloud technology: Assessing the space required for data centers, scheduling installations, and planning for on-going management operations, thus, allowing a smooth transition into the cloud environment.
As customers go higher and higher in terms of mobility, the demand for a greater bandwidth is evident, and that's an integral part of our solution
The pay-per-use model provided by iWV allows its clients to use cloud infrastructure completely on-demand, without having to incur additional costs of purchasing entire infrastructures. "As customers go higher and higher in terms of mobility, the demand for a greater bandwidth is evident, and that's an integral part of our solution. So, the more we understand our customers' needs, the better we can configure their systems," adds Wong.
One of iWV's clients sought a cloud domain with an optimized bandwidth to facilitate its trade operations. Having played a vital role in the journey of the trade merchant for seven years, iWV facilitated its client's ambition to hop on the cloud train. The company helped the trade merchant implement cash-less online business while enabling the client to leverage a constant network uptime. The entire infrastructure was moved to the cloud with a dedicated bandwidth to facilitate all the operations at the client's premise. To strengthen the defenses against potential cyber attacks, iWV incorporated security protocols in line with the cloud infrastructure to safeguard their entire database. Having worked with trade merchant for several years, iWV thoroughly understood their business and addressed the challenges as a joint activity rather than a one-sided endeavor. "We have observed that most customers are reluctant to share their ideas and business requirements. However, it is important for us as a service provider to be able to deliver the maximum value to enable them to achieve their business goals, instead of just providing a cloud infrastructure," emphasizes Wong.
The company delivers a personal touch while coordinating with their clients, a counter-productive approach in deploying cloud service, which not only helps in understanding the needs and requirements of its clients but also goes a long way in strengthening their mutual relationship. By implementing vigorous exercises to enlighten newcomers in the cloud environment, iWV walks along with its clients as they embark on their cloud cruise.