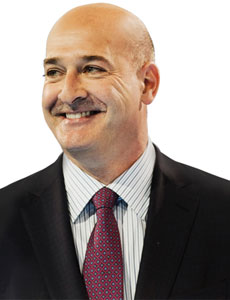 Keith Block, COO
A connoisseur of the CRM (Customer Relationship Management) industry once said, "In order to be successful, you just need to be one step ahead of the competition at all times." Many industry leaders in the CRM space believe in that philosophy: staying one step ahead at all times by equally investing their resources to lay hands on the latest and greatest innovations. However, in 2013, CRM industry was redefined by an ideology that tripled the revenue of a very well known CRM giant. Marc Benioff, CEO of Salesforce, hired Keith Block, a former Oracle revolutionary, describing him as, "The best sales executive to set foot in the enterprise software industry." Since then, Salesforce has taken significant strides in delivering value to their customers, living by the new philosophy brought in by Block: 'a customer-centric approach without worrying about the competition.'
The story of Salesforce is not a new one; their journey of climbing the topmost pedestal in the CRM space has paved the way for newer possibilities, strengthening the core believes of customer relationship via cloud-based services. Having served 150,000+ companies over the years, Salesforce has rightly lived up to its 'customer-centric approach' by embarking on a calendar event—Dreamforce—where the company interacts with their clients and customers to understand the various trends in the CRM industry. In one of his keynotes during their Dreamforce tour, Block says that Salesforce is bringing together marketing, service, artificial intelligence, and IoT into a single module to improve actionable functionalities that provide a unified approach to marketing, sales, and service. "Data collection is nothing new, but taking action on those data is. With all these technologies in place, everybody does marketing, everybody sells, and everybody does service," adds Block.
With a motive to eliminate one-size-fits-all tools of traditional CRM practices, myEinstein empowers users to build AI-powered applications to cater to their various CRM requirements
The epoch of digitalization and cloud technology
Salesforce's platform services have not only evolved over the years but also enabled smaller CRM service providers to utilize their expertise by adopting the PaaS (Platform-as-a-service) approach. Diversity and flexibility of the platform encompass the ability to integrate multiple applications and services to provide a unified CRM platform for all customer needs, augmented over the cloud. In addition to that, customized applications can be built from scratch, providing users the privilege of incorporating various features and functionalities. Tag it with the Salesforce Einstein artificial intelligence framework (myEinstein) and voila, a streamlined automation tool to deliver predictions and recommendations, unique to different business processes; an insightful bridge that connects customers with CRM executives. With a motive to eliminate one-size-fits-all tools of traditional CRM practices, myEinstein empowers users to build AI-powered applications to cater to their various CRM requirements. With any specific AI skill-sets, users can compile AI modules using the 'Point-click-predict' interface of myEinstein to follow a guided process of development. Considering one of many applications of the myEinstein tool: An administrator of a financial organization can develop a predictive attrition tool to learn the probability of customers likely to purchase products similar to the ones they would have considered previously. By setting a few pre-processing conditions, administrators can predict, identify, and build data sets to determine an attrition score that, in turn, predicts 'high-risk customers.' Based on this data, the financial organization can take necessary precautions and steps to address the risks.
Although this is a very specific use case, the myEinstein tool performs data aggregation with a similar methodology to arrive at various possibilities within a data set. The myEintein framework further provides a language and an image recognition tool that can classify information into different categories and quantify the number of steps and processes involved in a particular data set.

Number one for a reason

Although the monopoly over various technologies ended years, few pioneers in the industry continue to be a more significant part of the tech-spectrum; Similarly, Salesforce has been one of the most extensive CRM solution and service provider. Salesforce's portfolio covers a colossal bandwidth of services for various industries; from startups to multinational companies, all have leveraged the Salesforce platform to deploy various services. Consider Y-AXIS, a Hyderabad based migration firm: The startup turned to the CRM overlord, seeking business insights and workflow management. Y-AXIS provides cross-country visa consultancy and services; collaborating with Salesforce, the startup was able to launch new services in quick successions while delivering consistent communication with their customers regarding the status of visa applications. Salesforce provided a launch pad for Y-AXIS, allowing them to kick-start their operations flawlessly.

"Salesforce has taken significant strides in delivering value to their customers, living by the new philosophy brought in by Block: 'a customer-centric approach without worrying about the competition"

The Quintessence

Like the protagonist of every story, Salesforce conveys a message of its own—making customer satisfaction their main priority to attain success. The 18 years of experience in the CRM industry has checked most of the boxes, setting them apart from a significant number of service providers. Their latest iteration, myEinstein, only improves their existing platform by adding an element of AI into their product line and enabling machine-learning algorithms to minimize any operation to its bare essential.