Why CIOs look for Cloud-like Capabilities?
By Viswanathan Iyer, Vice President of Architectures, Cisco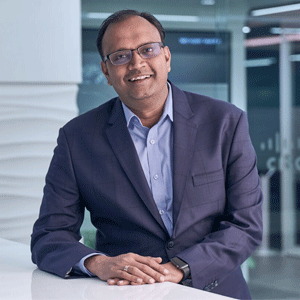 Viswanathan Iyer, Vice President of Architectures, Cisco
In a world dominated by the proliferation of data, storing it and managing it - with simplicity and security - is a top of mind for every company. This is why, when the public cloud emerged, many companies went all-in, attracted by the flexibility, and 'the single-pane of glass type' of management that would help them reduce the time and cost investments.
However, as the recent AWS outage has shown, over-relying on public cloud alone can be a risk, leading many companies to adopt a multi-cloud approach. This means many expanded their different groups of applications, data, and business across various clouds - public and private. While this strategy reduces the risk, many large companies have spoken about how it sent them back to a problem they know all too well: complexity. Because, unfortunately, two cloud environments and IT systems are never the same and jumping between them can be a challenge. In some cases, companies say that a multi-cloud environment ended up becoming too complex and not so economical to manage after all.
This is where hybrid cloud– a combination between on-premises and cloud - comes in, which is the strategy most companies will foreseeably adopt moving forward. In fact, a recent study from IDC shows that close to 90 percent of companies are pursuing a hybrid cloud strategy. However, hybrid still doesn't solve the incompatibility issue between the various clouds and IT systems, sustaining a cloud and vendor lock-in construct.
What's needed is an approach where apps can seamlessly commute between clouds and on-premises, without added complexities, resources and costs
It's just simpler for enterprises to stay where they are, at the expense of flexibility and scalability.
What's needed is an approach where apps can seamlessly commute between clouds and on-premises, without added complexities, resources and costs. This is why the Cisco/Google partnership is so powerful; because it aims to make this integration between clouds and existing IT assets on-premises much easier and seamless, through a consistent application development environment. Think of how you use your Gmail application, for example, across devices. When this happens in the enterprise space, businesses will finally become infrastructure agnostic and apply their applications to any environment, which will result in better distribution of business-critical applications and streamline of operations– all with far greater agility, scalability, and simplicity.
If there's one thing that all these transitions show us is something that has little to do with the technology itself, and that is the eternal pursuit of simplicity.
Effectively, in speaking with CIOs every day, what I've realized is that they care very little about where their applications sit. What CIOs really want is simplicity and agility, at the right price – whether that comes from the cloud, in-house data centers, edge networks or the combination of all. Is it simple to deploy and manage? Are the apps up and running? Are the services being delivered when and where the customers need? At a time when IT teams continue to become leaner and leaner, despite the increasing demands, powerful yet simple to use technology is critical to being in business in this digital era.
This simplicity-orientation is not that different from what we've seen in the consumer space, with the smartphone. And the resemblance shouldn't be a surprise, as we've become spoiled consumers, with everything we need at the tip of our fingers in real-time. Now, we want the same experience in the enterprise. The transition is already in motion, as enterprises continue to introduce more automation, more user-friendly platforms, or analytics-driven technologies. In a way, more cloud-like capabilities.
So what do CIOs want? They want simplicity – from their data centers, to their networks, to the cloud. In addition, they want flexibility in terms of how they consume it in an As-a-Service era. When complexity is removed from the equation, IT can rise up to the business expectations and be the innovation engine that it should be.